Configurable Learning Mechanism Research Team
Team Outline
Our team is conducting social problem-solving oriented research on utilization of artificial intelligence technology. We are now tackling mainly toward practical use of AI-aided diagnosis systems based on anomaly detection with image and acoustic analysis for social-infrastructure maintenance, medical care, and healthcare. We aim for the early technology- bridging by close collaboration with business operators in each problem domain and turning the PDCA in a short period. We make a contribution to horizontal deployment of AI technology through accumulation of know-hows for its utilization in the real-world, and extraction of their common points.
🏁Team's Research Theme
Infrastructure diagnosis by learning-type acoustic analysis technology
In the maintenance of social and industrial infrastructure, primary checking such as hammering test, close visual inspection and palpation, is commonly carried out by skilled-inspectors. It is important that not to overlook an anomaly, however, the checking process currently depends deeply on the experience and sense of inspectors. Furthermore, the number of skilled-inspector is decreasing due to aging. Therefore, we are engaging on developing AI-aided diagnosis systems for hammering test of concrete structures, detection of abnormal vibration of industrial machinery such as rotating bearings. By quantification of the checking results using an analysis technique based on machine learning, rather than relying on human senses, our system will prevent mistakes and variation of checking quality that lead to oversight of anomalies.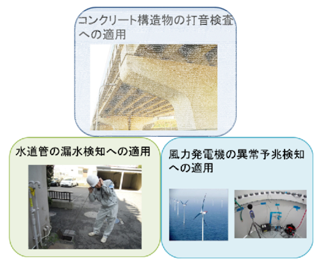 Medical diagnosis supporting system using image recognition technique
With the rapid progress of information technology and computerization in the medical field, more sophisticated medical devices are developed recent years. However, the some kinds of medical devices, such as endoscope and sonography, require high degrees of skill and experience to medical doctors, because they have to operate them and perform examination simultaneously. The pragmatic methods to extract the meaningful information from data obtained by the medical devices are not established yet, since it is difficult to give rapid and accurate diagnosis from images taken under irregularly variable conditions in human body. So we are trying to realize medical diagnosis supporting system using both image processing and pattern recognition technology based on machine learning. We carry out research and development for achieving reduction of doctorsf workload and moreover, achieving the society where every person can receive advanced medical care.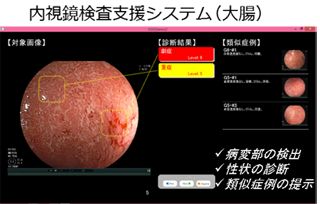 Hirokazu NOSATO,
Team Leader
Researcher Profile
Photo
Name and role
Field of Expertise
E-mail address HP

Team Leader

Hirokazu NOSATO
Applications Research based on Biomedical Imaging and Evolutionary Computation

h.nosato[ar]aist.go.jp

Senior Researcher

Yuji KASAI
Embedded system, hardware, signal processing, high speed data transmission, and radio communication

y.kasai[at]aist.go.jp

Senior Researcher

Masaya IWATA
Pattern recognition, Optimization algorithm

m.iwata[at]aist.go.jp

Senior Researcher

Yuuji ICHISUGI
BESOM

y-ichisugi[a]aist.go.jp

http://staff.aist.go.jp/y-ichisugi

Senior Researcher

Naoto TAKAHASHI
Natural Language Processing

naoto.takahashi[a]aist.go.jp

Senior Researcher

Izumi TAKEUTI
Science of Logic

takeuti[at]ni.aist.go.jp

Researcher

Kazuki UEHARA
Human-cooperative AI, Image recognition, Intelligent transport system

k-uehara[at]aist.go.jp

Research Assistant

Tsukuba Univ. (D3)

Aiga SUZUKI
Neural Network, Statistical Machine Learning, Computer Vision

ai-suzuki[at]aist.go.jp

https://tochikuji.github.io/

Research Assistant

Tsukuba Univ. (D3)

Cristovao PAULINO
Varietional Autoencoder

cristovao-paulino[at]aist.go.jp

Research Assistant

Tsukuba Univ. (D2)

Kaiwen YANG
Medical image detection, Deep learning

kevin.yang[at]aist.go.jp

Research Assistant

Tsukuba Univ. (M2)

Takumi YAMAGUCHI
Deep learning, Image recognition

yamaguchi.t[at]aist.go.jp

Research Assistant Tsukuba Univ. (M1)

Takeshi YOSHIDA
Support vector machines, Deep learning

yoshida-t[at]aist.go.jp

Research Assistant Tsukuba Univ. (M1)

Shogo TAKAOKA
Support vector machines, Deep learning

takaoka-0427[at]aist.go.jp

(Concurrent Post)

Hidenori SAKANASHI
Principal Research Manager, AIRC
Clinical decision support system, Image recognition, Machine learning

h.sakanashiaist.go.jp

https://staff.aist.go.jp/h.sakanashi

(Concurrent Post)

Hidemoto NAKADA
Chief Senior Researcher, Continuum Computing Archtcture Research Team, Digital Architecture Promotion Center

(Concurrent Post)

Yusuke TANIMURA
Team Leader, Continuum Computing Archtcture Research Team, Digital Architecture Promotion Center

(Concurrent Post)

Ryousuke NAKAMURA
Team Leader, Geoinformation Service Research Team, Digital Architecture Promotion Center
PageTop